News Page


News and events covering SMR products:
NOTICE FROM SMR PTY. LTD. 26th JUNE 2011

I am winding down engine production.

While engine production has never been commercially viable for me I have been doing it because I wanted to and have subsidised it from the normal commercial work.

Following a long trend, manufacturing is continuing to decline in Australia so every day it's getting harder to survive as more manufacturing shuts down here and goes offshore.

This puts a lot of pressure on those remaining, so the reality is I have little choice but to spend my time on real commercial work and not on the engines.

I have a bit of stock which I will over time build into engines and so I'll be able to supply many of the engines on order, but once the crankcases are gone there probably won't be any more made.


Steve Rothwell

R320 SECOND PLACE IN 1000 LAP CLASSIC


Reported from The Barton Controlline Forum:
"Wharfedale 1000 - 50th Anniversary
Posted: Sun Oct 10, 2010 11:20 am • Post subject: Wharfedale 1000 - 50th Anniversary

Today has seen the 50th running of this event, concluded at the Dishforth Airfield. A sizeable turnout of both flyers and spectators were treated to a blue sky and light winds, a serious contrast to the weather this year and the meeting held at the end of a sad week for British Aeromodelling.

Barrie Pickles opened the proceedings with a 2 minute silent tribute to Gordon Yeldham, and then the 9 competing teams were arranged to fly their 1000 laps. No heats, just straight into the action.

Race 1 saw Bernie Langworth piloting for Derek Cannon using a SHIEK powered by an MVVS28.
Tom Millar and Lawrie Court flying a re-engined 4th DIMENSION powered by a Rothwell 19 Diesel
and the Whitehouse/Bailey Team with a DALESMAN with either a WEST 25 or a MDS28, apologies for not knowing which!!

The Dalesman designer Ken Long was on timekeeping duties and was among a number of well known modellers from the past and the race ended early for the Wharfedale lads Whitehouse & Bailey due to a missing needle valve at 154 Laps, the other two teams playing cat and mouse with the
win going eventually to the Miller/Court Team in 56min 50 secs
to the Langworth/Cannon's 57min 20 after Derek Cannon spent a considerable time when in the lead by 11 laps extinguishing a fire..... "


Overall results were:


1st - Catlow/Jephcott/Finch 49min 6 secs.
2nd - Miller/Court 56min 50 secs. (R320)
3rd - Langworth/Cannon/Bradley 57min 20 secs.



Lawrence Court and R320 powered 4th Dimension

R250 AND AUSSIES WILSON WILSON WIN 2010 VINTAGE A AT BRITISH NATIONALS

REPORTED BARTON COLTROL-LINE FORUM:

"Posted: Tue Aug 31, 2010 12:07 am
•
Post subject: VTR at the 2010 Nationals
Typical Barkston weather. Friday night perfect. Sat blustery and showery. Sunday unflyable. Monday unflyable but we did. ...

The Classic A final was a classic in vile megga gusty wind.

Aussies Graham and Murray Wilson just pipped John Green and John Long by 1.6 seconds.
7min 10.3 to 7min 11.9. Bernie Langworth and John Broadhead came in 3rd with a 2 stop setting that was off the pace with a 7min 50.4.
The green/Long model had the edge on speed over the Antipodean with 21.7 for 10 as opposed to 21.9 but they fluffed one stop when the motor took a lot of flicks."


Winning Dimpled Dumpling has Aussie R250 power, of course!
R320 clean sweep in the 2010 UK Vintage Combat League
Congratulations to Richard Herbert 1st, Simon Millar 2nd and Mike Loughlin 3rd
in the 2010 UK Vintage Combat League, all using R320 engines.
4th place went to Roger Fisher using his own tuned PAW 19's


(Full results can be found at:
http://thecube3.co.uk/2010-vintage-league.pdf
)
Vintage A Results 64th Australian Nationals in Darby, Queensland

Excellent win for Steve Rothwell and Chris Sculley


11 Entrants fronted up for the Vintage A event at the 2010-2012 Dalby Nationals, and 10 flew on a very hot and humid day. Changing conditions on the day were to prove the undoing of event the most experienced and competition hardened Vintage A teams. A perfect setting in heat one did not mean the teams were automatically set up for heat two. As the results showed, speed and laps slid away as the day got hotter, and more humid. As the event progressed and it was pretty obvious that who every got the setting tricked right for one of the heats anyway would get into the finals, and probably do well.

As it turned out, in these conditions, intimate knowledge of the R250 and its interaction with the conditions and fuel composition, along with a smattering of wise council and experience prevailed.

After the heats were completed it was the team Rothwell/Sculley with the best time of 3:18, followed by Wilson/Bailey on 3:24.6 and Bellis/Bellis on 3:25.5, all using
Rothwell R250
engines.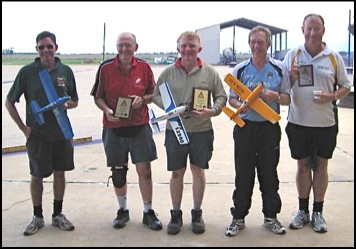 A Very Happy Steve


Steve's Dimpled Dumpling

To Quote John Hallowell directly:


" For many years, Steve has been supplying his world famous R250 engines for everybody else to take the chequered flag with. We all reckoned it was about time for Steve to have a win. And they did not disappoint. With Chris Sculley's smart work in the pits, success was never in doubt as they posted the fastest heat time of 3.18.41 and went on to win the final in 6.57.72 well ahead of Graeme Wilson and Harry Bailey on 7.20.31."


Harry Bailey:

"In Vintage A, I took the pitmans role with Graeme Wilson taking care of the handle end.
The racing took place over the hard surface at the Cotton Gin as the grass circle was not up to racing standards.
I used my yellow "Olympian" with a R250 for power and an APC full 7X7 prop. Starts, range and speed were all good in the heats and our first heat time was respectable. For our second heat a tweak on the engine setting gave us more speed and things were looking favourable for an improved heat time but in a rare occurrence for an experienced pilot of Graeme's ability he attempted to land the model one segment early and I had to run and retrieve the model for the pit stop. The resultant time was only fractionally slower than the first heat but we never the less qualified for the final. During that race, Bruce Bellis was pitting for bother Richard and thought that his Rothwell had started backwards, he was wrong, but in the process of trying to stop the engine he stuck his fingers in the propeller and the resultant injuries facilitated an immediate trip to hospital.

The top three teams of Rothwell/Sculley, Wilson/Bailey and Bellis/Bellis entered the circle for the final with the exception of the injured Bruce.
Rothwell/Scully had a smooth run to win a well deserved first place. The ever watchful Murphy was on hand to give the Bailey/Wilson team some backwards engine starts that dashed their winning chances and they crossed the line ten laps behind the winners.
With only half a team, the Bellis brothers had to be content with a third place with 0 laps recorded."

So congratulations to Steve and Chris for their well deserved win.

Vintage A Results 64th Australian Nationals Darby